In 1936, Mark M. Duff pictured above, purchased the mansion currently known as the Rotch-Jones-Duff House at 396 County Street. The family kept a home there until 1981.
At one time, the main office was in the New Bedford 5 Cent Savings Bank Building.

In 1887, the Acushnet Coal Company was a competitor and located in New Bedford at Hillman Street near North Water Street. Hart and Akin at 58 South Water Street also were coal distributors.

At one point in time, there were about 10 coal distributors in the city and many closed their business, and the numbers dwindled until Duff had the biggest share of the coal business.

(Also See 1937 Duff Coal Co Employee Clambake and Thomas Geary Water Front Pass Duff Coal Co 1918
Below see an ad from the 1892 New Bedford Directory Back Cover.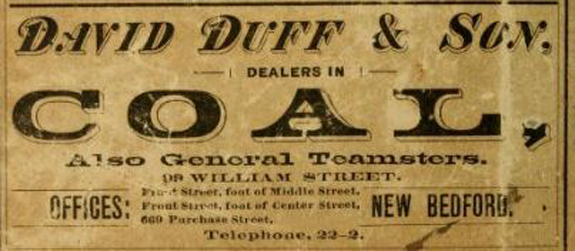 In 1928 to 1931 one the coal customers of David Duff & Son, were the owners of the last Whaling Ship that survives today, The Charles W. Morgan, for use aboard the ship. As late as 1962 The David Duff & Son had a coal yard and dilapidated building on Fish Island, New Bedford.